UPCOMING TRAVEL SEMINAR:
MODERNIZATION, MASS ATROCITY AND MEMORIALIZATION:  ARGENTINA
AUGUST 11 – 20, 2016:  FULL BROCHURE LINK HERE  Includes Overview; Daily Itinerary with Links and Registration Information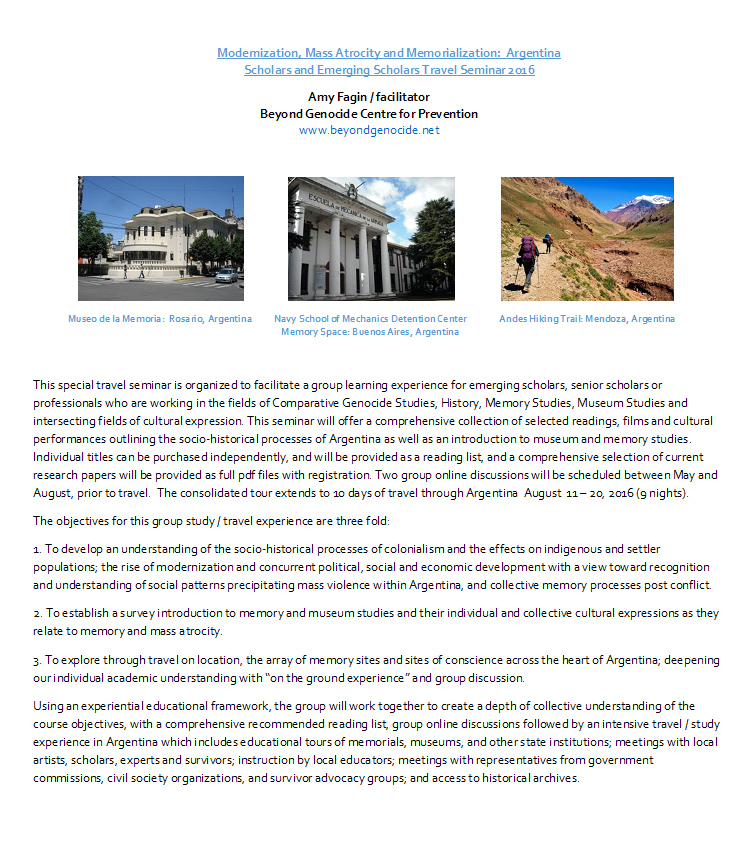 PAST TRAVEL SEMINARS
8/2014:  Rwanda and Ethiopia Trip  Emerging Scholars:  This special educational travel seminar to Rwanda and Ethiopia is designed for emerging scholars in the fields of Comparative Genocide Studies, History, Political Science, Sociology, Anthropology, Media Studies, Memory Studies, Museum Studies, and cognate fields. This 16-day travel experience and professional / academic course will prepare the emerging scholar to gain knowledge and professional skills through study, observation and direct experience, dialogue with experts and implementation of critical analytical skills in understanding the history of genocide, post conflict challenges and the role of museums, memorials and civil society in remembrance, commemoration, reconciliation and reconstruction in these two nations.
Co-facilitators:  Amy Fagin, independent scholar and visual artist and Dr. Amanda Grzyb, Associate Professor and Assistant Dean of Information and Media Studies at Western University (Canada) will co-facilitate the course instruction and guide this extraordinary learning experience that will afford a transformational global perspective for the emerging scholar.
Emerging Scholars Registration Brochure Download
post travel article Emerging Scholars in Genocide Studies august 2014